Northfield Mountain Recreation and Environmental Center
Northfield Mountain is a pumped storage facility owned and operated by FirstLight. Northfield offers a wide variety of recreational opportunities as well as an extensive array of environmental and recreation programs. We are a four-season recreation facility situated along a beautiful sweep of mountainside, with satellite facilities conveniently located along a 7-mile stretch of the Connecticut River.


99 Millers Falls Road, Northfield, MA 01360 Get directions
Activities
Northfield Mountain Recreation and Environmental Center maintains 26 miles of trails that offer excellent year-round activities
Cross Country Skiing
Northfield Mountain has more than 25 miles of trails designed specifically for cross country skiing and groomed for both classical and free-style skiing. Our trails offer some of the finest Nordic skiing in the region, from beginner trails to the demanding 800-foot vertical climb of Tenth Mountain Trail. Hikers, dogs and other pets are excluded from our trails during the ski season.
Hours of Operation: The trails will be groomed and opened to skiing and snowshoeing when there is adequate snow cover, Wednesday – Sunday, 9:00 a.m.– 4:30 p.m.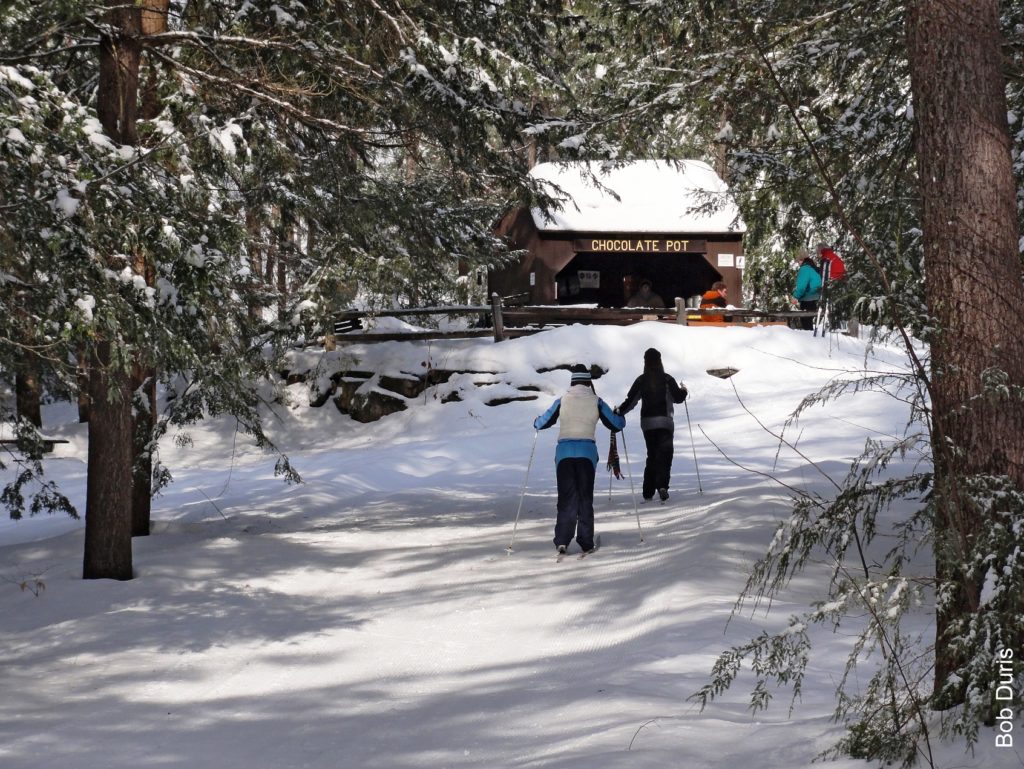 Ski Lessons for 2023-2024
Northfield Mountain's certified ski instructors offer 90 minute group lessons for $25/person which are generally offered at 10 a.m. and 1 p.m. on weekends and weekdays. Ski lessons emphasize fun, essential skills, and safety. Participants may choose between beginner's group lessons or private instruction for $50/hour. Reservations are required. Phone: (800) 859-2960.
Seasonal Ski and Snowshoe Rentals
In effort to put you in control of your winter recreational activity, we will be offering the season rental program for cross country skis and snowshoes again this season. This program gives renters the opportunity to ski and snowshoe when and where they find adequate snow regardless of conditions in Northfield. Snowshoes, and a limited number of skis, boots, and poles will be available for day rental this season when conditions permit us to open the trails for skiing. Payment will be accepted by credit card only.
When snow cover is sufficient, trails at the center will be groomed as needed. Cross country skiing, snowshoeing and fat biking will be allowed to all guests with a valid trail ticket. At times when snow cover is absent, too icy, thin or inconsistent for skiing, the trails may be opened for hiking, walking, and studded fat bikes. Visitors can get information about trail conditions and allowed activities by visiting FirstLight's Northfield Mountain Trail Report, Facebook or the Western Mass Cross Country Ski Areas Association.
Changes for 2023-2024:
Ski and snowshoe rentals will be available through a season rental program enrollment period (12/16/23 – 1/6/24). A limited supply of ski equipment will be available as day rentals when the trails are open for skiing
The Visitor Center will be open for access to the restrooms only
Trail pass and equipment rental transactions will be purchased at the ticket window by credit card only
Ski Lessons available by reservation only
Questions? Email us at northfield@firstlightpower.com or call 413-659-4426.
With some changes to amenities and procedures, the natural beauty of the Northfield Mountain Recreation and Environmental Center trails remain a refreshing and invigorating place to visit for outdoor winter recreation.
Snowshoeing
More than six miles of trails are reserved exclusively for snowshoeing. The trails meander through scenic sections of the mountain, with great views from Rose Ledges. Free snowshoe trail tickets must be picked up at the ski shop before heading out. Please see our price chart above if you need to rent snowshoes.
Fat Biking
A pass is required when we are open for skiing. Tire size must be larger than 3.5″ and tire pressure must be less than 10 psi. Exit trails if your tire creates ruts more than one inch in depth. Please do not walk on groomed trails. Always check trail report below before heading out.
Grooming
Northfield Mountain can take on the largest blizzard or the lightest dusting of snow with their fleet of grooming vehicles. The trails receive regular grooming–usually in the early morning, with tracks set for classical skiing and areas groomed flat for skating.
Trail Fees and Rental Equipment
A season rental gives you the flexibility to get out and cross-country ski or snowshoe whenever or wherever the snow conditions and your schedule allow. Appointments for picking up season rentals are available Dec. 16, 2023, through Jan. 6, 2024. All equipment must be returned by 5:00p.m. March 10, 2024.
2023-2024 Trail Ticket Rates
Download Trail Report
Maps and Guides
If you are heading out to the trails, feel free to download our trail map. We also posted the map to the Visitor Center doors if you would like to take a photo of it when you're at the site.
Download Trail Map
Rose Ledge Guide
Hidden Quarry Guide
Upcoming Events
Forest Health Lecutre Series at the Erving Public Library
Thursday, December 21st, 5:30 p.m.
Join FirstLight in collaboration with Erving Public Library, Land Stewardship, Inc., Harvard Forest and the MA Department of Conservation and Recreation for a three part series on forest health held on the third Thursday of October, November and December. On December 21st, join us for "Aerial Surveys and Local Deforestation" with Nicole Keleher, DCR. This is a free event and no signup is required. For more information, email library@erving-ma.gov. The library is located on 2 Care Drive, just off of Route 63, Erving, MA 01344.
Winter Solstice Headlamp Hike
Thursday, December 21st, 6:00 – 8:30 p.m.
Celebrate the longest night of the year along the trails of Northfield Mountain. Join us as we illuminate the dark trails, enjoying quotes and history about winter solstice along the way. We'll also observe the return of the light and the beginning of winter together in front of a warm and cozy campfire at a stop along the wooded path. Participants should bring a headlamp and dress in layers for hiking in winter weather and expect to hike up to 2 miles with an elevation gain of 300 feet. If our trails are open for skiing, snowshoes are required. This program and snowshoe rentals are free.
*Registration is required
Facility Rentals
Pavilion
Fee: $300 plus a refundable $150 cleaning/damage deposit fee for exclusive use of our post and beam pavilion and adjacent lawns along the Connecticut River*.
Please note: If a large tent is to be set up and removed on the nearby grounds, the Pavilion must be rented on the days before and after the event. Contact us for three day rental discounts and information.
To reserve, please email us at northfield@firstlightpower.com or call 1-413-659-4426.
Available Wednesday through Sunday, 8:30 a.m.-7:00 p.m. Memorial Day weekend through Columbus Day.
Maximum group size is 100 people. The 8 picnic tables in the Pavilion seat 64.
Swimming and beaching or anchoring of any watercraft on the riverbank is not permitted.
There are two 110 volt/20 amp outlets under the serving table with GFI protection. Disabled guests will find the service entrance most convenient. All others should use the Pavilion parking area directly off Pine Meadow Road.
Disabled guests will find the service entrance most convenient. All others should use the Pavilion parking area directly off Pine Meadow Road.
*Address of the Pavilion is 156 Pine Meadow Road. From the Visitor Center at 99 Millers Falls Road in Northfield, head north on Route 63 and it is the first left onto Ferry Road. At the bottom of this short road, turn right onto Pine Meadow Road and the Pavilion parking lot is on the left. Please share the address and directions with your guests.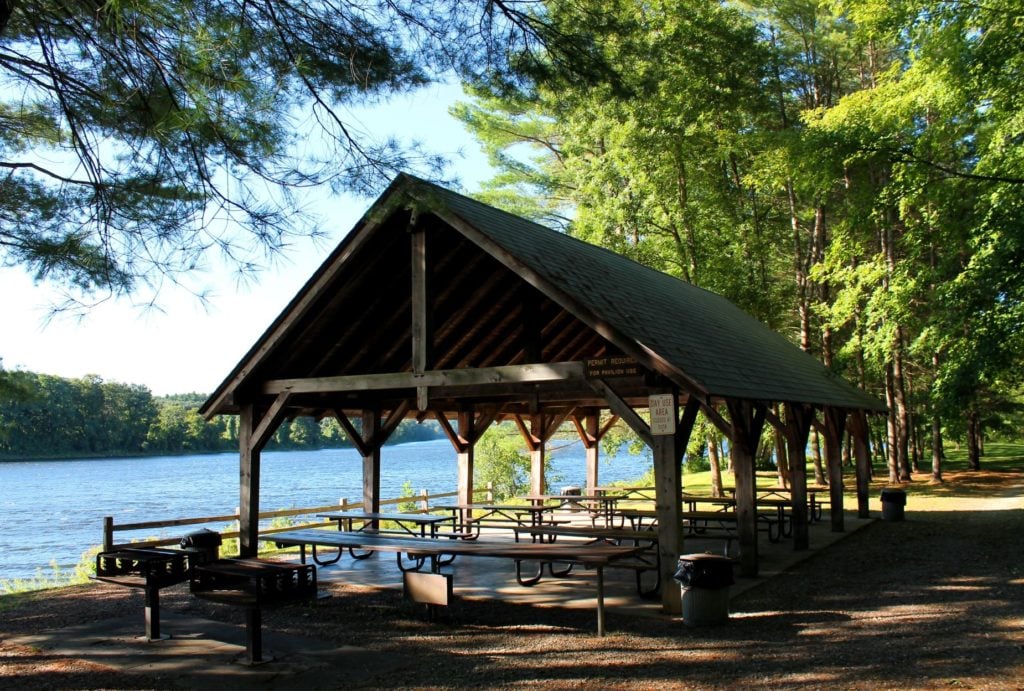 Yurt
Fee: $100 with a refundable $100 cleaning/damage deposit fee. Located behind the Visitor Center.
Available between 9 a.m. and 4:30 p.m.
Maximum group size is 30 people.
A pellet stove keeps the yurt warm in any season. Limited electricity is provided.
Visitor Center Auditorium
(Currently Unavailable)
Fee: $150 with a refundable $100 cleaning/damage deposit fee for large indoor meeting room in our Visitor Center.
Available between 9 a.m. and 4:30 p.m. April through October.
Maximum group size is 60 seated in rows.
PLEASE BE AWARE THAT USE OF ALCOHOL IS NOT PERMITTED IN YURT OR AUDITORIUM.
Hiking
Northfield Mountain Recreation and Environmental Center maintains 26 miles of trails that offer excellent hiking in warmer months, May through November. In order to preserve the integrity of the trails, hiking is not permitted once the ski season begins, or during spring mud season. The wide carriage-width trails that make up most of the trail system are designed for cross-country skiing. Additionally there are 6.0 mi. of traditional hiking trails that wind past streams, hemlock groves, old rock quarries, and the striking Rose Ledge cliffs. Below are links to our trail map, trail report and trail guides for the Rose Ledge Trail and the Hidden Quarry Trail.
Please enjoy the trails and respect other hikers. We also ask that you please keep your dogs on a leash and pick up after them.
The Visitor Center restrooms are open June-October and when we are open for skiing. There is also a porta potty available.
Sign up here for our monthly Enewsletter to stay up to date with events and information.